Our chapter president, Dwight Smith, who is also an EAA

Tech Counselor, called to inform me that he was going to

perform an inspection on the construction of a very unique

airplane.

When he told the type of aircraft I jumped at the

chance to go along with him and view the project. The

airplane is a Prowler. I have admired the Prowler ever

since I first read about it in the plans & kit-built

directory that comes out yearly in the KitPlane Magazine.

This aircraft is being built by Bryan Davies who is a

FedEx pilot of thirty years and has lived in Memphis for

twenty of the thirty year career with FedEx. Bryan is

currently in the MD-11.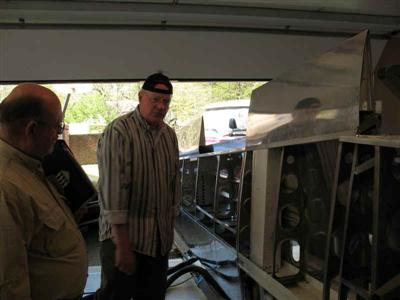 The Prowler did not have many builders accept the

challenge! In fact, the word challenge may just be an

understatement! As it turned out, the plans set is not a set

of scaled drawings but rather a booklet with pages of hand

drawn sketches that roughly show the fabrication of many

lose parts. Also the designer of the Prowler is no longer

supporting the builders and is totally out of the picture.

The kit materials include many prefabricated critical parts such

as attach points, landing gear (retractable) and several

parts that have been roughly formed but not to finished

installation.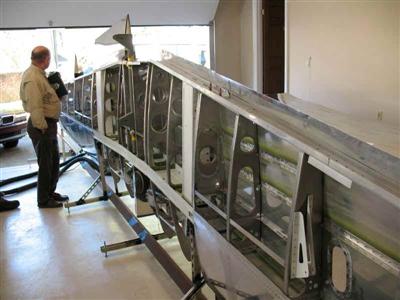 This being an all-metal aircraft, has caused

Bryan to expand his already wide skills base to include

metal forming and shaping and even design/re-design of

various assemblies. Bryan's other skills and endeavors

include the restoration of his first car, a Mercury Cougar,

to award winning status and a classic Honda motorcycle.

Both look show room perfect. To date Bryan has the wing fabrication completed to the

final closure. He asked for some suggestions from Dwight

as to the final closing process and Dwight having built an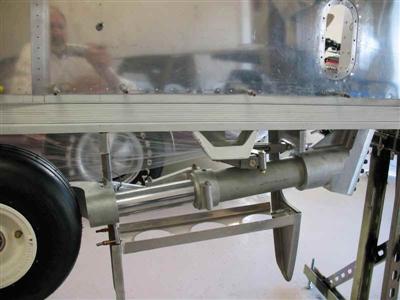 RV-4 was helpful in this area. Bryan has completed approximately 90% of the tail surfaces and, as soon as the

wing is complete, plans to begin building a jig for the

fuselage.

One of the attractions of the early Prowler was that it was

designed around and automotive V8 engines up to 400 HP!

However, Bryan is presently focusing on an inverted V-4

diesel power plant of 200+HP. He expects the airplane to

come in around 1300 lbs. empty weight with a 1900 lbs.

gross weight.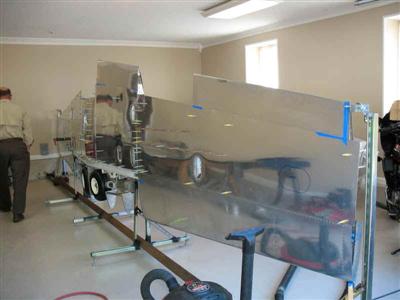 Now don't go looking around every corner for Prowlers at

Sun & Fun or Oshkosh Air Venture since there have been

only three flying Prowlers and currently there are none

flying.

The Prowler design has been picked up by a new

supplier and is currently under redesign and Bryan will

probably play a vita roll in the redesign process since he is

one of only a few brave souls attempting this demanding

and very challenging project. He has a close working

relationship with the new Prowler factory.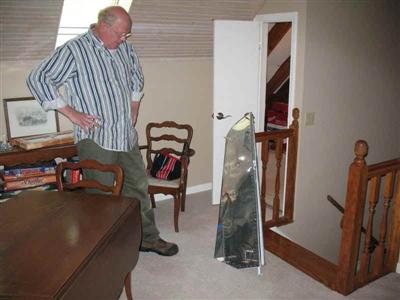 Hopefully this fabulous airplane will develop quickly and

other builders will have the desire to build one. Thanks to

Bryan for allowing me to high-lite his beautiful

craftsmanship and this rare and unique airplane.